December 2015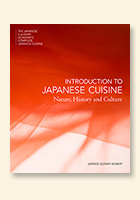 Japan SIE RICHTIG ZU VERSTEHEN IST EINE LEBENSAUFGABE.
Die japanische Küche als ganzheitliche Kunstform zu erklären versucht
"lntroduction to Japanese Cuisine" (Shuhari lniative 2015, 218 Seiten, €69, 15, auf Englisch). Der Kulinarischen Akademie des Landes ist es gelungen, die Erklärung
von kulturphilosophischen Hintergründen, von Techniken wie Fermentieren und Werkzeugen wie Messern sowie eine fundierte Produkt- und Warenkunde mit stimmungsvollen Bildern zu verbinden. Selten war ein Lehrbuch so sinnlich.
― DER FEINSCHEMECER
Japan it takes a lifetime to understand properly.
"Introduction to Japanese Cuisine" (Shuhari Initiative 2015,
218 pages, €69.15, in English) seeks to explain Japanese
cuisine as a holistic art form. The country's Culinary
Academy has managed tobring together a clarification of
the cultural background, with techniques such as
fermenting and tools such as knives, product knowledge
and evocative photographs. Rarely is a manual so sensual.